The Biosolids Assurance Scheme is owned and operated by Assured Biosolids Limited, which is a not-for-profit company set up by 11 UK Water and Sewerage Companies.
NSF Certification UK, which has UKAS accreditation for the scheme, has been appointed as the independent Certification Body to audit scheme members annually.
The operations and marketing are funded by members based on quantities of biosolids recycled to agricultural land. The result of certification of all activities (from sludge treatment to biosolids application to land) will result in BAS Certified Biosolids.
The Biosolids Assurance Scheme intends to provide reassurance to the food chain and consumers as set out in this model: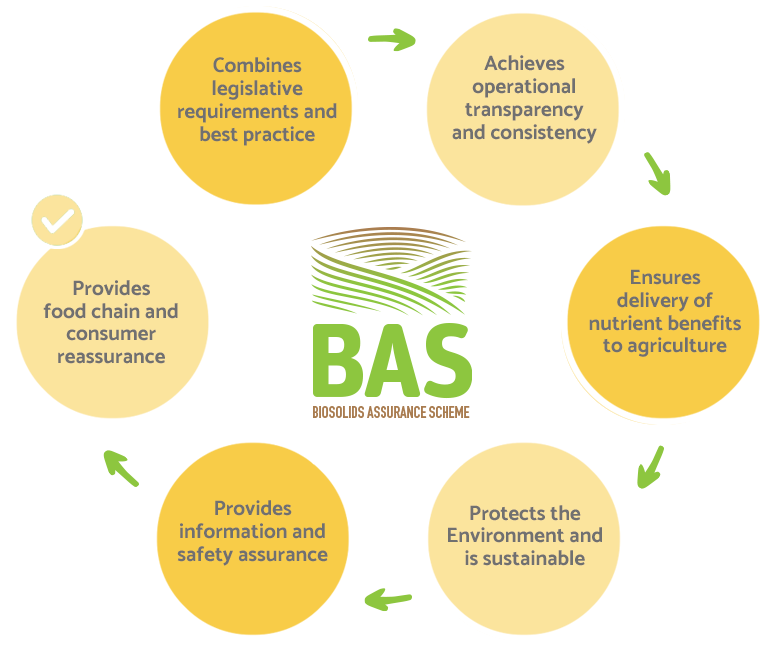 Scheme applicants and members will be organisations that treat sewage sludge and transport, store and recycle biosolids to agricultural land.  The scheme is open to all organisations, but there can be no duplication of audit scope.
The scope of the scheme includes treatment of sludge (including source material controls), transport, storage and application of biosolids to agricultural land. The scheme does not currently include applications to non-agricultural land (e.g. land reclamation).
Assured Biosolids Limited, a not-for-profit company